A Highlander Born from Chaos – Extended Epilogue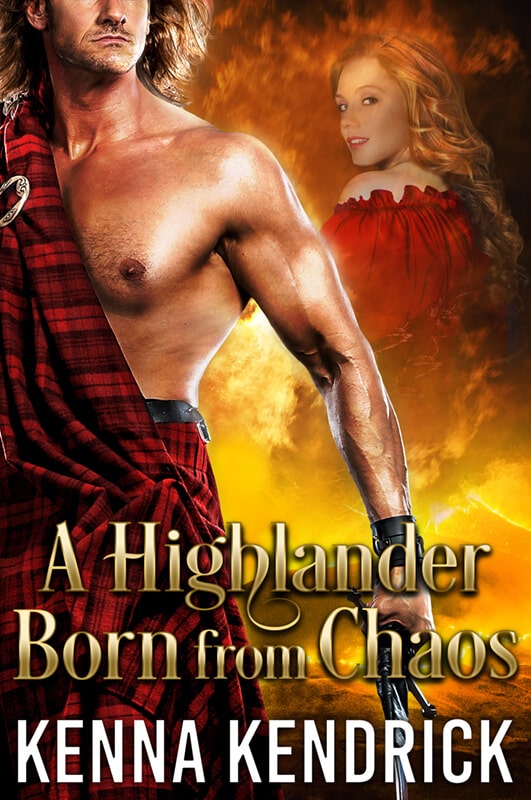 Evie tutted and laughed as she washed Bryce's face. Her son had arrived home covered in mud after a day spent with his uncle Rory mucking out the horses at Kirklinton. He hated being clean and was making much protest, as Hamish appeared at the door of the parlor from the farmyard and smiled.
"More mud, more horses, lad," he said, and Bryce nodded.
"Yes, Father," he said, "Uncle Rory is goin' to teach me to ride."
"Uncle Rory has a lot to answer for, and I shall be havin' stern words with him when next I see him," Evie said, unable to hide her amusement.
"Ah, let the lad be, Evie. A little mud never hurt anyone," Hamish said, bringing in a fair amount of it caked to his boots.
He settled himself down by the fire, stretching his legs out as the dogs came running to his side.
"And where is little Hanna? She is never near the mud, is she," Hamish said, just as the door to the parlor opened and his daughter appeared.
"Oh, there she is," Evie said, smiling at her daughter, who was wearing a pretty white dress and had her hair tied back in ribbons.
"Father, Father," she cried, running over to Hamish and throwing her arms around him.
"One muddy little child and one lovely clean little child," he said, picking her up and twirling her around.
"Hamish, ye will make her sick, the poor lass," Evie said, shaking her head.
"Nay, my wee lass, ye are a bonnie thing," Hamish said, setting Hanna down and patting her on the head.
"Have ye had word as to my father?" Evie said, turning to Hamish, who shook his head.
"I have heard nothin' from Kirklinton today. I wish Rory had stayed to give us news, but perhaps he hurried back. There will be news soon, daenae worry," Hamish said, giving Evie a weak smile.
Her father had grown ill in the past months, growing frailer by the day. She had always imagined him as ageless, a man who would never grow old, but just recently, she had noticed such a change come over him, and the sadness in her mother's eyes had been so sad to see.
She patted Bryce on the head and hugged him close. He was a boisterous little boy, though already growing up fast. At five years old, he was becoming more like his father every day, while Hanna was every bit her mother's child. She was only six, a quiet and timid girl, though with a sharp mind, who took after her father.
"I am worried about my father, Hamish," Evie said, as she finished washing Bryce's face, and looking the boy up and down for further signs of mud.
"I know lass, come then, we shall all walk to Kirklinton ourselves. Children, get yerselves ready for a walk across the moorlands," Hamish said, scooping Hanna up in his arms and twirling her about.
"Ye shall make her sick," Evie cried.
.
Together, they set off across the moorlands. It was a bright summer's day, and the heathers were glowing purple all around, a gentle breeze blowing from the south and bringing with it the warmth of far off climes. Evie walked alone., while Hamish ran ahead with the children, carrying them in turn on his back and pretending to be a horse, as he charged on ahead.
He is such a good father to them, she thought to herself, smiling, as Hamish charged ahead with Bryce upon his back.
As they approached Kirklinton, the children ran on ahead, and Hamish waited for Evie, taking her by the hand as they walked towards the castle.
"I know ye worry about yer father, but he is strong as an ox," Hamish said.
"Even the strongest ox has its day," she replied, leaning her head upon his shoulder.
"But I worry for Rory if yer dear father should …" he began, his words trailing off.
"Rory is ready for the responsibility of bein' Laird. Ever since Owen entered the monastery at Lanercost, he has known that 'Tis his place to inherit the title one day," Evie said.
"And ye and I shall be at his side when that day comes," Hamish replied.
The great gates of Kirklinton were swung open, and the party made their way inside. Evie was surprised by the sight which met her, as her brother Owen and Uncle Duncan came to greet them. Each was dressed in the habit of the monastery, and she greeted them with joy, a questioning look upon her face.
"Well, this is a happy reunion, Evie," her uncle said, embracing her.
" a happy one indeed. But why are ye both here? What brings ye to Kirklinton? There is nay trouble at Lanercost, is there?" Evie asked, and Owen shook his head.
"Nay, sister, nay trouble. But mother sent for us; she worries that …" Owen said, his words trailing off.
"He is nae dead yet, far from it. I have just said to Hamish that our father will outlive us all. Have ye prayed for him?" she asked, and the two men nodded.
"Night and day," her uncle replied.
"Then we must surely have confidence that our prayers will be answered," Evie said, and she called the children over, and stood them in a line, "now, children, we will see yer grandfather, and I want nay misbehavior, dae ye hear me. Put a smile upon yer faces and greet him with a kiss."
The children nodded, and Evie turned to the others, giving them a look, which expressed a similar sentiment.
"Ah, here's my young rider," Rory said, emerging from the keep, just as the others prepared to enter, "how did ye enjoy the horse today, my wee lad?" Rory said, as his nephew and niece ran to greet him.
"He enjoyed it well enough, though try nae to get him so muddy next time, Rory," Evie said, smiling at her brother and shaking her head.
"They are both bonnie bairns," Rory said, smiling, as he stood at Evie's side, and the two children ran off across the courtyard after Owen and Duncan.
"And ye are a good uncle to them, Rory, though I know ye would dearly like children of yer own," she replied, as they walked together towards the keep.
"Aye, but the woman I love does nae want that," he said.
Evie made no reply, she knew her brother loved Caitlin, he had always loved her, and with Owen now in the monastery, it was more important than ever that Rory was soon married, and an heir given to the clan.
"Well, perhaps one day," she said, and he sighed.
"That has been my thought for too long. Always 'one day.' Anyway, come and see Father," he said, "ye daenae need to hear of my problems."
She took Hamish by the hand and followed Rory and the others inside, expecting to find her father lying in bed, her mother at his side.
But, as they came to the doorway of the Great Hall, she was surprised to hear laughter coming from inside and sound of her parent's voices in animated discussion.
"Oh, Evie, and my grandchildren, all my children," Fraser said, opening his arms as the children followed Evie's earlier instructions.
Rory was there too, and he glanced at Evie, smiling and shaking his head.
"Father … ye …" she began, but he too shook his head, beaming around at the two youngsters who had crowded before him.
"Everyone thought I was at death's door. But it was merely a fever, one which yer dear grandmother was soon able to cure me of," Fraser said, patting each of the children on the head in turn.
Evie looked at Hamish, who laughed and turned to her in astonishment.
"Ye shall outlive us all, Laird," he said, and Fraser nodded.
"Aye, the Musgraves have nae seen me off, and neither shall a mere fever. It takes more than that to see an Elliott to his grave. Now, tell me what news ye have for me," Fraser said, looking around at them all.
"Brother, ye are a remarkable man," Evie's uncle said, and Owen agreed.
"We hurried here from Lanercost when we heard that ye were sick," he said, and his father shook his head.
"The road from Lanercost is dangerous; they say the Musgraves are stoppin' folk along the way. If 'Tis discovered that ye are Elliotts then …" he said, shaking his head.
"We are monks, and even the Musgraves have nae the audacity to set themselves upon holy men," Owen replied.
"Daenae be so certain, Owen. The Musgraves have burned crofts on the lower moorlands, and they still bother the folks crossin' the border near Lochrutton," Rory said, shaking his head.
"Enough of that talk, ye will scare the children," Evie said, for she was careful to guard Bryce and Hanna against tales of the Musgraves.
It had been nearly ten years since her ordeal at the hands of Isabella, and in those years, they had heard little from south of the border. With Crispin dead, no one had challenged Hamish's right to rule as Laird of the McBryde's, and with the border clans united under Fraser Elliott's banner, the threat of the Musgraves had lessened. But Evie had never been able to rid herself of the thought that Isabella Musgrave was still biding her time and seeking her revenge.
Never trust a Musgrave, for they shall nae rest until every one of us is revenged upon, she thought to herself.
"Aye, enough of this talk, let us celebrate," her father said.
"And what are we to celebrate, Fraser?" Evie's mother said, and her husband laughed.
"Well, it seems the news of my fever has brought us all together and 'Tis a rare occasion when anythin' brings us together. Come now, we shall call for some refreshment and perhaps Isla, ye shall play the flute for us so that I may have the honor of dancin' with these two lovely ladies," Fraser said, holding out his hand to his grandchildren,, who both giggled, as their grandfather began to caper around the room.
Evie laughed, taking Hamish by the hand and stepping to one side, as her mother began to play. Rory called for drinks and food to be brought, and the family settled down to an afternoon of merriment and fun. Fraser danced with all his grandchildren, and the Great Hall was filled with laughter.
"We are very blessed, Hamish," Evie said as she watched the children playing together.
"Aye, lass, that we are," he said, putting his arm around her.
"Why daenae ye and Hamish take a walk by yerselves. The children will be all right here with us. There is enough spirit in yer father to keep them goin' for hours," her mother said, pausing a moment from her flute playing and whispering to Evie.
Evie nodded, taking Hamish by the hand, and they slipped out of the Great Hall, the sounds of celebration continuing behind them. They walked across the courtyard and onto the moorlands, only pausing when they were some distance away from the castle, where Hamish put his arms around her and held her close.
"Will our children have as happy a future as we?" Evie said, slipping her hand into his and leading him on across the moorlands.
"A happy future comes at a cost, lass. Think what ye and I went through before we could say that we were truly happy. Hanna and Bryce will have their share of sorrows and woes, of that I am certain. But like every generation they will find their happiness too, I am sure of it," Hamish replied.
"With a family such as ours, I daenae doubt it. They are loved, and that is all that matters," Evie replied.
"If ye have love then anythin' is possible," Hamish said.
They paused, standing on the ridge looking out towards the Armstrong castle, and back towards Kirklinton. The sun was high in the sky, the heathers purple and golden, stretching as an endless carpet before them. Evie turned and looked at Hamish, leaning up to kiss him, her love for him growing stronger day by day. She loved him beyond words, beyond everything they had endured together, and she knew that he loved her in just the same way.
"Will it always be like this?" she asked, and he nodded.
"Maybe nae, perhaps it will be even better," he replied, and she smiled at him, knowing that whatever the future held, one thing was assured.
"We will keep fightin', Hamish, for love is stronger than anything that can face us," she said, a perfect moment, the future awaiting.
If you want to know what lies ahead in our story, you may want to get the sequel…
This time, we follow the story of Margaret, an adventurous English lady who runs away to escape the burdens of her heritage and finds herself in the keep of a handsome Highlander. She knows that he is the one, but she can never reveal her secret. If she does so, he'll hate her forever. What is this secret that she's hiding so adamantly? And how will it affect their relationship?