Capturing the Highlander's Heart – Extended Epilogue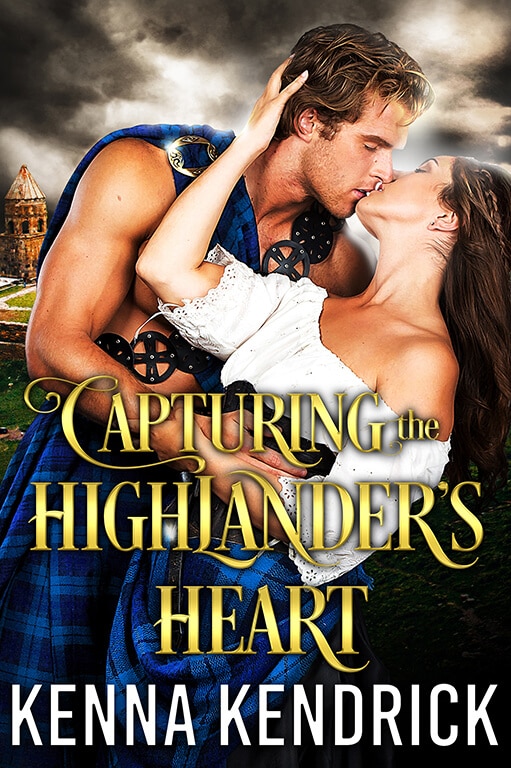 Marianne washed her hands in the basin in the kitchen. It had been a hard few months, but it had been so freeing. She, of course, wanted to be there for every second of Amelia's birth experience, but she had another reason for enjoying her time at Kinnaird Castle. It was a chance to be out from under her father's thumb. Lord Browne had always been tough and demanding and restrictive, but ever since she'd reached marriageable age, he was practically unbearable.
He had been attempting to marry her off to the most eligible bachelors in London. Unfortunately for him, eligible meant disgustingly rich, but also 20 or more years her senior. Why oh why, she often wondered, would he want his only daughter to be married off to someone who was nearly his age? Had he no thought to her happiness?
She scrubbed and scrubbed her hands with the lard soap in the kitchen. She had been helping Henrietta work in the herb garden, Henrietta hoping the herbs would be ready in time to help Amelia in the birth and after, and Marianne's hands had been stained with dirt.
They were celebrating mid-Summer in Scotland, and so the weather was generally fair with a few rain showers, and Henrietta and Marianne would be out in the herb garden any day that the sun was sneaking out from behind the clouds.
Marianne smiled. Despite feeling free, she had enjoyed her time in the castle. Fiona was lovely, always wanting to be of help to anyone who needed it, loving a good gossip and walk around the grounds. Lord Parker was always laughing and telling jokes, entertaining Jamie and William. And there was William Fraser. A man who confused her. And Marianne Browne, she thought, was never confused.
But, he, he got under her skin. Ever since she'd first arrived, it was if he was pinpointing her for his target of flirtations. Had he no other woman to torment? Since he'd lost his gambling and nightlife partner in Jamie, perhaps he was desperate for a woman to flirt with. That was the way Amelia made it seem when she would mention it to her. He was never unkind or totally inappropriate, but he always made her feel unsettled…and a warmth would come to redden her cheeks which would make him laugh and laugh. He was always laughing.
Marianne finished washing her hands and dried them on the cloth nearby. She would meet Amelia for tea in Amelia's room, for she had taken to a lot of bed rest of late. She moved to leave the kitchen, and found William once again in her path, looking as if he was about to enter. They bumped into each other again, and a memory flashed into Marianne's mind. She thought back to that time in the cottage when William had come to visit when Henrietta was ill. Marianne had surprised herself and done something she wished she hadn't. For that's what seemed to spur William to action, keeping him hanging around her as he did, with a constant grin on his face, as if they'd shared a secret, which they did, but she hated herself for it.
Why, why, had she done it?
Marianne's' mind returned to reality, and she realized her hands were on William's chest. William looked down in surprise and then, that grin came back, that old familiar grin. Marianne pushed away, her brow furrowing again, forming her face into the same look she gave William every time: consternation and indignation. This always spurred him to laughter, but this time, he didn't laugh, despite the smile on his face.
"What were ye doing in there, Lady Browne?" William had continued to use her official title as if to mock her in some way.
She rose to her full height, attempting to portray the virtuous and moral woman she was, despite her moment of weakness. "I was just washing my hands. Henrietta and I were working in the herb garden, in preparation for the new baby."
"Well, that sounds lovely." He sounded genuine and gave her a large smile. "I was attempting to find the origin of a few tarts, as I'd heard around the castle that the servants had made a fresh batch, and the men need a bit of sustenance before heading out into the fields once again." Jamie, Lord Parker, William, and Mr. Fletcher had finally secured the flock and began grazing them in the new pasture. They were preparing themselves for the harvest of wool and deciding how to go about it. William looked over Marianne's head through the kitchen door, searching for the sight or smell of freshly baked goods. She turned her head back into the room to look as well.
"I…ah, did not see any in there. Perhaps you are mistaken?" She turned back to him and lifted an eyebrow. "You'll have to sate your tart desires elsewhere."
William smiled again, even wider, always happy when on the verge of a verbal sparring match. "Ah, yes, William Fraser, always and constantly mistaken. My, wouldnae ye love that, lass? But, I hate tae disappoint, I'd heard it from a servant herself. Perhaps I will ask her again and…sate my desires." He lingered on these last few words, hoping to catch a blush from the virtuous Marianne.
A tingle of frustration ran through her at the thought of William talking to another woman. William didn't talk to women. He wooed them, and it bothered her, the thought of his strong, muscled arm leaning against the wall, staring into the eyes of a young serving woman, who would no doubt welcome his flirtations and affections.
She brushed this thought away quickly, feeling angry at herself. She responded tersely, "Perhaps you should." And she hurried from the kitchen to find Amelia in her room for tea, leaving an entertained William in her wake.
She entered Amelia's room. It was quiet, and she feared she would be waking Amelia from her daily nap, but she found her sitting in her chair, watching the crackling fire, and writing. "Tea, Amelia?"
A tired Amelia smiled at her friend and reached out her hand. "Yes, tea would be divine, Marianne." Amelia's belly had grown, and she would be giving birth in the next month or two. She was looking a bit strained and tired these days and everyone was eagerly awaiting the new addition to the clan. But, her poem of the two lovers had been published in a beautiful black volume, and it stood proudly on the mantle. The money Amelia had received for her work was more than she'd ever expected, and she was able to repay Jamie back for all the debts of her father. He at first refused such a debt, claiming that she could use the money in any way she saw fit, and so they compromised. She would use it to help the clan's poorest families who needed new materials for their farms or businesses, and they could keep their Scottish way of life.
"I called for tea on my way up to your room. I knew you would like some."
"Thank you." Amelia replied. Marianne sat down in the chair opposite.
"Writing a new poem, Amelia? You have become quite the well-known poetess." Marianne smiled, thinking of her friend's publication having been written about in the London newspaper. "You are all everyone is discussing in London, when I returned for a brief time."
Amelia waved the praise away, turning shy at the recognition. She had been shown a newspaper that Fiona had received from London praising the work, but she hadn't been able to bring herself to read it, feeling nervous under such direct praise. And, so, Jamie had read it to her as they lay in their bed intertwined one morning, and tears filled her eyes. "I am so proud of ye, my love. Proud tae have such a wife. I hope our child will gain all of yer intelligence." And Amelia felt as if her new life could not have gotten any better, for she had found a man who did not tie her down or control her or try to diminish her accomplishments. She was certain Charles would not have allowed her to be published, let alone write at all. It would not have been a woman's duty, in his mind. She felt a wave of relief at having sidestepped such a match so long ago.
After getting lost in her thoughts for a few moments, she replied to Marianne, "Yes, I am working on a new one, but I find my mind is a little cloudy with fatigue these days." She smiled, "It seems pregnancy has sapped all of my strength. Soon this boy or girl will remove all my ideas and become the poet or poetess themselves!" She chuckled, moving her pen and book to the table by the armchair, and placing her hands upon her large belly. She looked at Marianne, whose expression had turned confused or irritated. She was grateful daily for her friend's comforting presence, and she waited to hear what her beautiful friend would say next.
Marianne paused for a moment, before saying, "You know, I bumped into William Fraser outside the kitchens again. Am I never to not be tormented by that man? It seems he goes out of his way to find me and ridicule me!"
Amelia's face lit up despite her fatigue. She laughed. "My dear Marianne, I thought you were getting used to his 'torment'. Is he not entertaining you? I thought I have seen you smile once or twice after speaking to him."
A part of Marianne wanted to say yes, but she couldn't bring herself to say it. She shook her head. "Do not accuse me of such an act of encouragement. I…I thought he had plenty of other women to focus his…charms on. Why must he choose me?"
"Hmm…so you do find him charming then?" She laughed heartily at Marianne's aghast expression. "Oh, Marianne. I find him incredibly charming. He has been a good friend to us all. He is like family. He is so sweet and gentlemanly, and he is very merry. But to answer your question, why, I think he may have developed a liking for you." Amelia winked at her friend.
Marianne's heart flipped in her chest. Her shock was evident on her face as she gasped and asked her friend incredulously. "Me? You must be joking." This was the first time Amelia had even hinted at such an idea, and she wondered why she was saying so now.
"I have been thinking it for some time but did not want to unsettle you. Why else would he follow you around the castle, curtail his other habits, and focus all his so-called charms upon you, my friend? He must feel something for you. William is not one to spend so much time on one woman without having feelings for her."
Marianne frowned, thinking this over. She hadn't thought of it like that. But, no that couldn't be true at all. He was never serious, and he was always trying to make her blush. If he had liked her, he would have tried to engage her in serious conversation or tried to be respectful.
Amelia turned her head to the side, watching Marianne's mind work and expression flit from one emotion to the next. It tickled her to see William fawn over Marianne and have Marianne reject his every advance. She decided to use what matchmaking powers she had, now that her own love story had worked out pleasantly.
"Perhaps you're enjoying his advances and should consider him as a prospect?" She waited for the explosion of emotion from her friend.
"I…I…no, of course not! And if you were not pregnant, you would receive even more of my wrath, Amelia!" Marianne reddened, and Amelia was satisfied with her friend's ardent reaction. Inside, Marianne's mind continued to work, and she grew angrier and angrier at the thought of William Fraser having any effect on her emotions. No, she would not give him a chance. And she would tell him so the next time he chose to bump into her in any of the castle hallways.
---
If you haven't already, please leave your review on Amazon