Legend of a Highland Lass – Extended Epilogue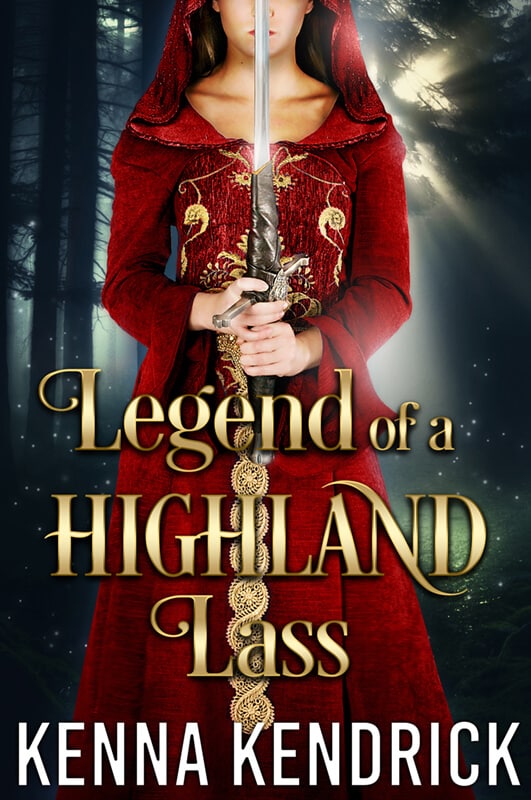 Sean was securing the last of the nails on the doorframe to the entrance of the tavern when Brandon came up behind him.
"Sean," Donovan said. "A rider approaches."
Sean's heart began to race, his mind wandering and fearing the worst. Who could know we're here? It's not possible. This is a remote area. Only a few people I knew possess knowledge of these parts.
"Fetch yer sword," Sean said to Donovan. "Tell the other villagers to go indoors and await instructions."
"Aye," Donovan said before quickly retreating and spreading the news.
Sean quickly retreated to his cottage, Rose tending to a garden as he went inside to fetch his weapon.
"What is it?" Rose asked.
"A rider approaches," Sean said.
Rose wasted no time—she followed after Sean and retrieved her own sword, the two of them then moving together toward the trail leading up to the village and standing on their guard. They waited…and waited…and waited. Finally, a single man on horseback became visible in the distance, riding slowly and with caution toward the front of the village.
"Who is that?" Rose said. "He looks…like a Highlander."
Sean shook his head, squinting and perplexed as to whom the rider could be. He watched as the man approached, and then his jaw opened as the rider's face came into clearer view. No, it can't be! I thought he was dead!
Sean lowered his sword, Rose grabbing him by the arm as he did so. "What?" she asked. "What is it?"
Sean jutted his chin toward the incoming rider, now just ten paces away from where they stood. "I know him," Sean said. "I know the man that approaches."
"Ye do?"
"Aye…he is…my brother…"
The rider, his face now in full view, dismounted his horse and smiled as he outstretched his arms. His face and build were similar to that of Sean—rugged, handsome, a few scars, and a weathered look in his eyes.
"Big brother," the man said. "It has been a long time."
Sean approached his kin slowly, shaking his head and still amazed that he was looking upon his face. "Eamon," he said. "I never thought I would see ye again."
The two brothers squared off, neither of them saying a word for several moments. As they looked on at one another, Donovan approached from the rear.
"Is everything alright?" he asked.
Sean nodded. "Aye. Everything is fine. There is no cause for concern."
Eamon waved. "My name is Eamon." He nodded to Sean. "I am kin of this fine man here." He looked at Rose. "And who might ye be?"
Rose held her head high—proud. "I am his wife. My name is Rose."
Eamon's eyes went wide. "My God," he said. "He married again. I would have never thought that I would live to see the day. I guess that explains the smile that he now sports. Ye do look quite different now, Sean, I must say."
Sean took another step forward. "How did ye…Why are ye here?"
"Oh, I've been looking for ye for quite some time, brother. I've been searching the Highlands in every part. After I couldn't find ye…" He gestured around the village. "I figured there was only one more place ye could be. Quite stunning, I must say. It looks like ye have built quite a nice home for yerselves."
Sean crossed his arms, huffing as he did so. "What are ye doing here, Eamon? What do ye want?"
Eamon shook his head. "Ye still hold a grudge against me, I see."
"Considering what ye did, can ye blame me?"
Eamon took a step forward. "I am not here to quarrel with ye about things from the past. There are much more pressing matters at hand. Can we speak indoors? Somewhere private?"
Sean debated for a moment, just as eager to hear Eamon out, as he was to tell him to leave. He betrayed me, he betrayed our family. He left before he could help me avenge my fallen wife…
"The cottage behind us," Sean said, forking a thumb over his shoulder. "I will meet ye there."
Eamon nodded, stepping around them both and moving toward the cottage. Once he was out of earshot, Rose said: "He is yer brother?"
"Aye," Sean said, watching as Eamon entered their home. "But I have not seen him in years."
"Why? What happened? Ye never mentioned him before."
"There is good reason for that. He…betrayed me."
"How?"
Sean grabbed Rose by the hand and moved toward the cottage. "I'll explain later," he said. "Let's hear what he has to say first."
They followed after Eamon, entering their cottage and seeing that he had already taken up a seat at their dinner table. They both stood, waiting with curious expressions.
"Aren't ye going to sit?" Eamon asked.
"Speak," Sean said. "Say what ye are going to say."
Eamon leaned forward, folding his hands in front of him. "As I said," he began, "I am not here to speak of the past. I…need yer help, actually."
"And why should I help ye?"
"Because there is a significant amount of riches to be had at the end of this journey that I am proposing, more than ye could ever imagine."
"Riches?" Sean said. "Whose?"
Eamon smiled wickedly. "Try the King of England. After yer little tiff with him after the murder of his nephew, which spread like wildfire around the Highlands, by the way, he decided that he needed to employ a more…personal touch to the English plight to rule the Highlands."
"Personal touch?" Rose said.
"Aye," Eamon said. "The King is sending a proxy to the Highlands. A nobleman by the name of Cutler. He wishes to track ye all down and dispense of ye after killing the King's nephew and the men he sent to avenge his death. Ye had to know that this kind of retribution was a possibility."
"I did," Sean said. "But what is it that ye are proposing?"
"I am proposing," Eamon said, "that we kill this man Cutler. We dispense of the English once and for all by cutting off the head of the serpent."
"And these riches ye speak of?"
"This man Cutler is bringing his lot with him, all of his gold and coin. I am organizing a group of men to band together. We will kill the king, dispense of his minions, and steal his riches. And ye, my dear older brother, are one of the finest, if not the finest swordsmen in all of the land."
Sean shook his head. "I will not rob anyone. I have a simple life now. And I wish to keep it that way."
Eamon held up a finger. "But Cutler will no doubt track ye down if ye do not rid yerself of him first. It is a preemptive measure, brother. If ye sit here and do nothing, he will find ye, and he will kill ye. Ye don't want his riches? Fine. But ye know that he must be dealt with before he deals with ye. I know where he is going to be. I just need ye to agree to the job. Join me. Join the other men that I have to organize and help me take down this tyrant."
Sean turned away; his mind wracked with affliction. I cannot lose Rose. I cannot lose my people. I cannot allow the King to destroy all that I have built and take away my life after I just pieced it back together.
Sean looked at Rose, bringing his hand up to her cheek and stroking it delicately. "What do ye think, my love?"
Rose sighed. "Cutler will no doubt find us unless we deal with him first. I believe the words yer brother states to be true." She took his hand and held it to her belly. "And there are more than the two of us to think about now…"
Sean's eyes went wide, smiling with sheer joy as he understood fully what his wife was hinting at. "Are ye sure?" he asked.
Rose nodded and smiled. "Aye. I am quite sure. And we must do all we can to protect it before it arrives…"
Sean looked again at Eamon, his younger brother eagerly awaiting his reply. Sean felt the intensity of the situation increasing now that he knew his wife was with child, and the urgency to save them both and keep them out of harm's way was even more pressing than it was before.
"So," Eamon said, arms outstretched. "Will ye join me?"
Sean took a beat. Thinking…and thinking…and thinking…and then he nodded. "Aye," he said with depletion in his tone, not eager in the slightest to take up the sword but knowing that he was going to have to protect everything he loved. "I am in."
---
If you want to stay updated on my next book, and want to know about secret deals, please click the button below!
---
If you haven't already, please leave your review on Amazon
---
If you want to be always up to date with my new releases, click and...
Follow me on BookBub