Phantom of the Highlands – Extended Epilogue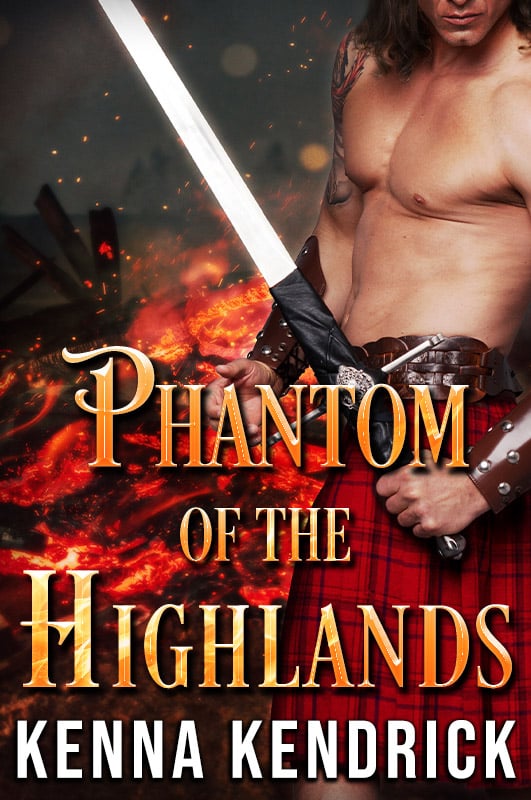 Three Years Later…
Fin was off his horse before it even stopped running. He ran across the bailey, his boots thundering hard across the wooden bridge that connected the yard to the keep proper. He dashed into the entry hall and stopped, looking around. At one end of the building was a large hearth, the fire blazing inside of it, cutting the chill in the air.
A young man who served as Col's squire approached him, his face ashen, his expression grave. He stopped, and Fin was sure he could see tears standing in the boy's eyes.
"What has happened?" Fin asked.
"The… the Lady has been poisoned," the young man said.
Fin's eyes widened, and his belly churned. He had gotten word while out hunting that something had happened, and he needed to return to Westmarch Hall immediately. He had ridden with all haste to get back to the keep, fear and anxiety fueling his flight.
"And Baron Lennox?" Fin asked.
"Is fine," he said. "He is with Lady Gillian now."
"Take me."
The page turned and led Fin down a corridor, their footsteps thumping hard on the stone. They turned into a passage that ended at the door to Col's bedchamber. The page gave him a slight bow and peeled off, leaving Fin on his own. He headed for the door but was intercepted by a voice echoing off the walls behind him.
"Captain Begbie, please wait."
Fin turned and found Col's physician, an older man of wide girth named Dougal, approaching him. He waited for the physician to catch up to him. The older man stopped, his face flushed, his breath quickened.
"What happened?" Fin asked.
"Somebody slipped some poison intae the Lady's wine," Dougal said. "But we ken it was meant for the Baron."
"Is she alright?"
Dougal nodded. "She will be," he replied. "Thank God she didnae ingest much. Right now, she just needs some rest."
"Thank God," Fin said, a wave of relief washing through him. "I need tae see Col, and I need tae see him now."
"He's with the Lady right now, and she shouldnae be disturbed," Dougal said. "I'll tell him to find ye."
Fin grumbled under his breath. As the Captain of Col's personal guard, it would fall to him to find the poisoner. Which meant he needed to gather as many pertinent details as quickly as he could. For all they knew, the poisoner was on horseback and galloping away from Westmarch as they stood there dickering. Every moment they lost could be another mile the poisoner got further away.
"Tell him tae find me now, Dougal," Fin ordered. "I need tae see him right away."
"Aye, Captain Begbie."
As the physician hustled for the door, Fin watched him go for a moment, disbelief over this turn of events washing through him. With a low growl, he turned and walked away down the corridor, his heavy footfalls echoing all around him. He found a pair of soldiers on duty and ordered them to stand watch outside Gillian's door. Nobody in and nobody out, save for the physician.
Feeling helpless and powerless, Fin stalked the halls of the keep. After their reunion and reconciliation, Gillian's father had a castle built for them on the border of the Western March – halfway between York and his home village. Col had told him it was meant as a symbolic gesture, a blending of their two people.
And shortly after they had moved in, Col had appointed him to head up his personal guard. At first, Fin had thought it was a joke. But Col assured him it was not. He'd told Fin that he believed in him and trusted him with not just his life, but the lives of his family as well. It had meant the world to Fin, and he liked to think that he had grown into his position. His men were loyal and would follow him to the gates of Hell if he asked. And Fin knew that every one of them would lay down their life to protect Col and his family.
Fin also knew there were some in the Highlands that resented Col for his alliance with the English, and saw Westmarch Hall as a symbol of betrayal. They saw it as a selling out of the Scottish people in favor of Col's personal enrichment and argued their alliance came at the cost of their freedom. It wasn't true as far as Fin was concerned. He was as sensitive to the Scottish independence as anybody, but Col made sure his people were well taken care of, and his people never went without. And yet, his alliance and bond with the Duke angered them.
Fin should have gone to check on the children. He'd been so worried about Gillian that he had not stopped to think. Col and Gillian had two children – James the firstborn, and their daughter Freya, who was two years old. But Fin knew they would be with Jane as they often were. Given the circumstances, it was probably the best and safest place for them. Jane cared for them like they were her own, and in Fin's state, he would probably just scare them anyway.
Fin found his way up to the ramparts on the outer curtain wall of the castle. It was where he went when he needed to think and clear his head. The night was darker than pitch, and the torches flickered, casting eerie shadows that writhed upon the stone parapets. The clouds overhead were thick and dark, and a drizzle had started to fall over the land. It suited Fin's mood perfectly.
Fin needed to find the person responsible for poisoning Gillian. But until he could talk to Col, he felt utterly powerless. Fin was a man who did not like feeling out of control of a situation. And this was a situation he had zero control over, which left him feeling awkward and frustrated. All he could do was keep pacing the ramparts, trying to calm himself down, and gather his wits about him. He knew he was going to need all of them.
Fin stopped and looked out into the vast sea of darkness before him – the Western March. As the Captain of Col's household guard, it had been his job, his responsibility to keep Col, Gillian, and their children safe. It was his duty to protect them and make sure nothing happened to them. And he had failed in his duty. Gillian lay in bed, possibly dying of poison, while he'd been out hunting. His failure could have cost an old friend, and his Lady, their lives.
Fin let those thoughts trail away, knowing the rabbit hole they would inevitably lead down. It was a warren of self-doubt and personal recriminations. And right now, he needed to keep a clear head. He could not afford to pity himself. He needed to find out who tried to poison Gillian. And he needed to kill that person.
"Fin."
He turned to see Col striding up to him. His expression was grim, and his face pinched, clouded with a whole host of dark, negative emotions. But more than anything, his cousin and oldest friend looked scared. Nothing scared Col and seeing the fear on his face, left Fin feeling rattled right down to his core.
"How is she?" Fin asked.
"Dougal says she'll be fine," he replied. "Says that with some rest, she'll be right as rain soon."
"That's good. That's real good," Fin said. "Dae ye have a suspect yet?"
Col shook his head. "No. But there is no shortage of people who want me dead – Scottish and English alike."
"Aye, that's true."
Col flashed him a wry grin. "Yer an arse."
"Aye. But ye love me anyway."
"Aye. I suppose I do," Col said. "Now, what are we gonna dae about this?"
Fin sighed. He'd been pondering the answer to that question since he found out Gillian had fallen ill. But he was no closer to an answer now than he was then.
"I need ye tae look into this for me, Fin," Col said.
"Of course I will," Fin replied. "Dae ye even need tae ask?"
Col nodded. "Good. I want ye tae turn over every rock ye need tae turn over. But find the man who did this. The man who tried to murder me wife.
"Every rock. Aye," he said. "I will nae let ye down."
"I know ye won't."
Col clapped him on the shoulder and gave him a nod. He turned and walked away quickly, no doubt going back to Gillian's bedside. Fin was left standing alone on the ramparts. His mind and heart churned wildly, and his entire body stirred with anger. That somebody came into the keep he was charged with protecting and nearly killed Gillian – tried to kill Col – filled him with a deep, abiding rage.
Fin vowed silently to himself that he would find the man responsible and would take his life. More than that, Fin knew he would enjoy it. It was merely a matter of finding the person who did this foul deed.
And when he did, they would spend the rest of their short life paying for it.
---
If you want to stay updated on my next book, and want to know about secret deals, please click the button below!
---
If you haven't already, please leave your review on Amazon
---
If you want to be always up to date with my new releases, click and...
Follow me on BookBub